Contraceptive Update
Online Training 27th of November 09:00 - 13:30
Online Training 14th of February 09:00 - 13:30
Course Provider PCCPD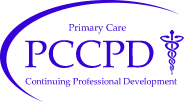 Please note that there are a limited number of fully funded places on this course for eligible candidates.

Staff that qualify to attend funded sessions:

Advanced Nurse Practitioners
Nurse Specialists
Extended Role Practice Nurses
Practice Nurses
Nursing Associates
Nursing Partners
Nurse Dispensers
Podiatrists
Physiotherapists
Therapists
Paramedics
PLEASE NOTE THIS IS AN UPDATE COURSE FOR THOSE WHO ARE ALREADY ADVISING ON PROGESTOGEN ONLY CONTRACEPTION AND THOSE WHO ARE ALREADY ADVISING ON COMBINED HORMONAL CONTRACEPTION.
Course Content
Update on and use of Progestogen Only Pills
Update on and use of Depo injections including Sayanna Press
Information on Progestogen only implants & intrauterine devices
Use of emergency hormonal contraception
Covid precautions
Use of remote prescribing of POC using FSRH guidelines and PCWHF advice and restarting POC LARC methods
Use of UKMEC
Use of Guidance
Recap risks and benefits
Which pill/patch/ring to choose
Regime changes
Missed pills
Follow-up during Covid restrictions
This programme is based on the Faculty of Sexual & Reproductive Healthcare, UKMEC 2016 Eligibility Criteria for Contraceptive Use (updated 2019).
Please note that as this course is provided by an outside company, we will need to share your name and email address with them, so they can send you the course link.

If you have any queries please contact traininghub@taurushealthcare.co.uk


Date

Venue

14/02/2024
9.00 am

Online
When using the booking system please do not refresh your page as you booking will not be complete.
If you would like to book multiple people at one time, please ensure each individual has an account and you can see them when you login.
If you don't see this as an option please contact the Training Hub to request permissions to be added your account.
Please login to see prices