Herefordshire and Worcestershire
Community and Practice Nurse Pilot
In collaboration with Health Education England, Worcestershire Health and Care NHS Trust are preparing to launch a Community and Practice Nurse role across Herefordshire and Worcestershire STP in the spring/summer of 2019. This will be very exciting opportunity to trail blaze an integrated nursing role within Community and Primary care.
The pilot will build the foundations to a flexibly skilled, knowledgeable and experienced workforce across organisational boundaries, providing integrated care. The pilot will provide an educational development day tailored to the specific needs of the integrated nurse focusing on community and practice knowledge and obtain specialist and specific skills relevant to the roles.
To be part of the project you will need to commit to allowing the identified nurse a protected development day, per week (this will be a funded day). The project aims to create an interdisciplinary nurse, to enable this, your nurse will have the option to spend some of the protected development days shadowing and gaining competencies with a Community Team.
This pilot would primarily suite a band 5 development post or those seeking further development in both specialties.
The programme lasts 12 months. Each nurse will be employed by either the General Practice or a Community Nursing Team. A Service Level Agreement (SLA) will be formed between your neighbouring, participating Community Team, so that placements can take place between the two areas. The layout will look as follows for a Host General Practice for a fulltime post example:
4 days within General Practice
1 day every week will be protected for group education/development and placements within the community team. This will be run for the duration of the pilot and is funded by HEE.
Worcestershire Health and Care NHS Trust is facilitating the pilot and are looking for expressions of interest to gauge which organisations have current vacancies, potential future vacancies or potential development interest within their current footprint.
At this stage it is not a commitment, just an expression of interest.
GP practices, who would like to express an interest in the Community and Practice Nurse role, please email chelsea.elcocks@nhs.net by 31st July 2019.
Please see the supplementary reference guide attached below for more information.
The timeframe we are working towards is as follows:
Expressions of interest returned by July 2019.
Shortlisting of applicants August 2019
Commencement in post from September 2019.
We look forward to hearing from you.
Best wishes, Worcestershire Health and Care NHS Trust
Reference Guide
Community and Practice Nurse 2019/20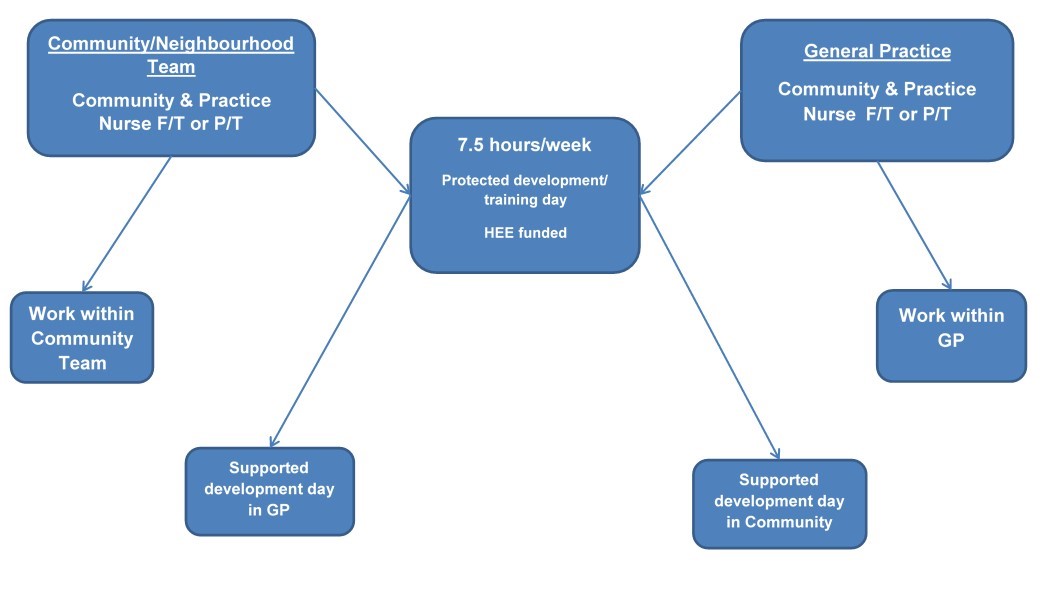 What is a Community and Practice Nurse?
Community and Practice Nurses are NMC registered nurses that will deliver care across the Community and Primary Care sectors as an integral part of the multidisciplinary team. They will work effectively across both the General Practice and Community Team specialties to aid in enhancing quality of health outcomes and prevention, as well as support those with long term health conditions. The Community and Practice Nurse is a proposed band 5 developmental role offering the rare opportunity to work across both General Practice and a Community Team. They will also attend pre-agreed development/education day every week to aid in this collaborative role.
The Community and Practice Nurse must be registered under the NMC and hold a current pin number.
What do they do?
The educational framework within this pilot will give the Community and Practice Nurse the skills to work across both primary care and the community.
Community and Practice Nurses will work within their scope of practice and limits of competence. They will:
Provide general practice duties within their scope of practice
Provide community skills within their scope of practice
Support frailty and older adults
Work within an integrated care system
Adhere to the NMC professional code of conduct at all times
Provide health promotion and disease prevention advice for patients
Develop and deliver appropriate treatment and management plans
Work with other health care professionals to diagnose, monitor, manage and treat long-term conditions
Follow policy and protocols including information management in both settings
How do they fit into the community and general practice workforce?
The Community and Practice Nurse will work across the two sectors of primary healthcare, integrating care across both areas as a valued member of the multidisciplinary team as well as work as an autonomous clinician. The Community and Practice Nurse will be managed by the host organisation as an integral member of their team.
Information for host practices and community teams
WHACT are partnering with local organisations to facilitate the Community and Practice Nurse role. This secondment/fixed term position will allow the nurse to work across primary care to further develop and build knowledge and skills but also allowing the nurse to obtain specialist knowledge that can be utilised across both general practice and the community healthcare settings.
The scope of the project includes 1 day per week within protected and planned development day, covering an array of topics specific to both roles and includes placement within the community teams to help sign off competencies if needed.
What we would need practices and community teams to offer
Part-time or full-time nursing post with 1 day dedicated to development
Local induction into area
Clinical supervision
What we offer you as a practice or community team
Development opportunity
A project manager
Recruitment and selection support (if required)
Education and development framework (funded)
Organisation of placements/collaboration
Training plan
Organisation of externally sourced training
How much does it cost the practice and community team?
A proposed full time or part time, fixed term contract/honorary contract on the project
The development day cost of 7.5 hours per week will be reimbursed to the practice for the development/educational day of one marked day per week (these may be clustered depending on the training)
Further information please contact either:
Chelsea Elcocks Project Manager Chelsea.elcocks@nhs.net
Louise Seeney Head of Education and Clinical Development, WHACT Louise.seeney@nhs.net