Training Requirements
Training Matrix
Depending on your role experience the matrix below will direct you to the appropriate training you need to complete.
(The product-specific top-up training will follow after each individual vaccine is approved by the regulators, currently available are COVID-19 mRNA Vaccine BNT162b2 & AstraZeneca Vaccines )
Definitions
Experienced vaccinator - have administered vaccination programmes in the last 12 months
Non-experienced vaccinator - new or returning after a period longer than 12 months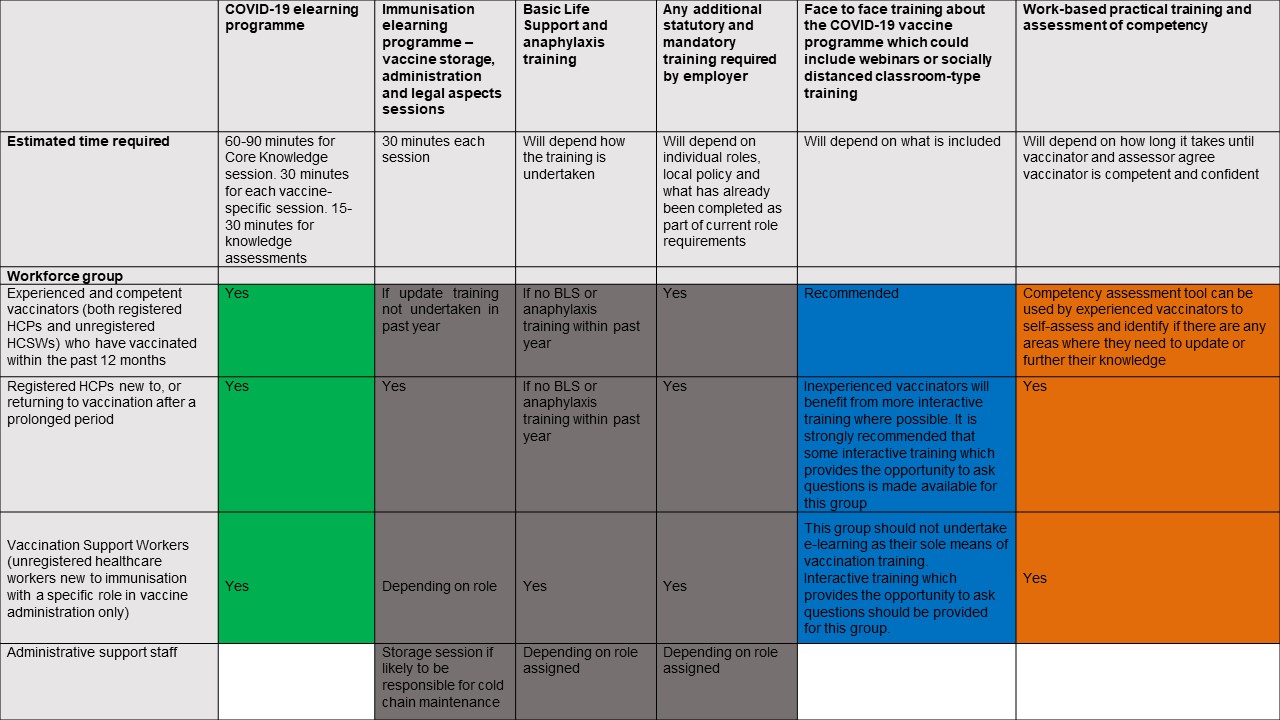 KEY to Above
Click on the colour sentence below to be directed to the training links
---
Core COVID-19 Vaccination e-Learning programme on HEE e-LfH

Please click the button to the right to view the HEE's e-learning management website and then scroll down to the 'How to Access' section on that page to get to the following training:

• Core Knowledge for COVID-19 Vaccinators

• COVID-19 mRNA Vaccine BNT162b2 (PRODUCT SPECIFIC)

For a guide on how to register and navigate to the training on HEE's e-learning management platform, please click the button to the right to view the guide.
Mandatory Training for all staff
(available on HEE's e-LfH or employer system)
Interactive Training
(Online Session)
Herefordshire & Worcestershire Learning Management System
This training is limited to 50 people, with more sessions to come.
This training is for people who have not been undertaking vaccinations in the past 12 months or anyone who felt the online training didn't quite fit their needs.
To register and/or login to sign up to these interactive training sessions on www.hwth-lms.co.uk please use the date link below:
(Please be advised you do need an NHS email address to self-register. If you do not have one please contact the following email address traininghub@taurushealthcare.co.uk.)
For help to register if you have not done so already (for NHS email addresses only) please click the guide below:
Other Training Required
Please click the button below to view the document
---
Guidance Documentation
Click the buttons below to view the documents.
COVID-19: the green book, chapter 14a
COVID-19 vaccination programme Information for healthcare practitioners
Training recommendations for COVID-19 vaccinators
Coronavirus Yellow Card reporting scheme
Protocols and patient group directions (PGDs)
---
VACCINE DIGITAL SYSTEMS
NIVS
Please be aware this system pre-populates fields so there is a lower amount of detail entry.
Documentation
Click the document title links below to view them
National Immunisation Vaccination System (NIVS) Updated Covid User Guide
NIVs Frequently Asked Questions (version 2)
Pharmoutcomes
Demo Videos to come
Documentation
Click the document title links below to view them
COVID Vaccination Centre - Administrator guide Final
COVID Vaccination Service - Site and User set up
Outcomes4Health Bar Code Scanner Check
Simplybook
Demo Video to come
Documentation
Click the document title links below to view them
1.1 Accessing the Simplybook Booking Platform for managing the Covid 19 Vaccination Appointments v0.1
1.2 Accessing the Google Authenticator for Simplybook Booking Platform for managing the Covid 19 Vaccination Appointments
2.1 User Management for the Simplybook Booking Platform v0.1
3.1 Validating Tickets on the Simplybook Booking Platform v0.1
3.2 Amending a Booking on the Simplybook Booking Platform v0.1
3.3 Scheduling 2nd Vaccination Bookings on the Simplybook Booking Platform v0.1
3.4 Dealing with Walk-In Appointments for Vaccination on the Simplybook Booking Platform v0.1
4.1 Producing Booking Data Reports from the Simplybook Booking Platform v0.1
4.2 Flu Vaccination Data Check using the Simplybook Booking Platform v0.1
4.3 Updating Booking Record with Chosen Vaccine Type on the Simplybook Booking Platform v0.1
4.4 Producing Dashboard Reports on the Simplybook Booking Platform v0.1
5.1 Amending a Service on the Simplybook Booking Platform v0.1
5.2 Amending a Service Provider on the Simplybook Booking Platform v0.1
6.1 Customising the Simplybook Booking Platform v0.1
Covid Vaccine clinic flow & POS & Doorman Quick Guides
Doorman Operational Processes v0 1
POS Operational Processes v0 1
Simplybook Training Slide Deck v0.2
NIMS
Documentation
Click the document title links below to view them
NIMS Userguide (version 2) - 30 November 2020